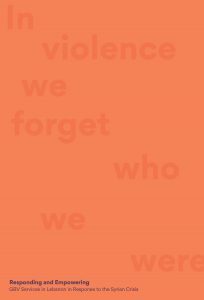 Download ICGBV Report – 'In violence we forget who we were'
Responding and Empowering: GBV Services in Lebanon in Response to the Syrian Crisis
For this year's Commission on the Status of Women (CSW 63) the ICGBV commissioned a report on GBV response services in Lebanon in the wake of the Syrian Crisis. Looking at the critical intersection between GBV and the priority theme of 'social protection, access to public services and sustainable infrastructure for gender equality and the empowerment of women and girls'.
As the CSW comes at the same time as the eight year anniversary of outbreak of war in Syria, the ICGBV sought to examine the model GBV response services within the humanitarian response of a small country that is on the frontlines Syrian conflict and the mass exodus of refugees – Lebanon.
After eight years of humanitarian response that is moving more towards long-term development funding, Lebanon has a lot to offer in terms of a case study.
With the help of Cathy Doran and Tim Sheehan (Concern), the ICGBV was able to produce this report. The main themes that emerged in the research for this report were:
The need for not just a survivor-centred approach to GBV response services, but a survivor-led approach.
The importance of working with local Civil Society Organisations (CSOs) throughout all stages of the response.
The need to work with government institutions even in an Emergency setting to ensure that services are sustainable.
The opportunity that can exist to advance GBV response services at a time of concentrated resource investment.
*Heading image provided by Women Now for Development, an organisation which began in Syria and is now working in Lebanon through Centres for Women's Empowerment.