Press Release 
For Immediate Release 
Trócaire CEO takes over Chair of Irish Consortium on Gender Based Violence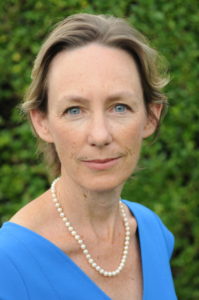 The Irish Consortium on Gender Based Violence (ICGBV) is delighted to announce the appointment of Caoimhe de Barra, the CEO of overseas development agency Trócaire, as the new Chair of the ICGBV.
Since becoming CEO of Trócaire in October 2018, and in her previous roles, Ms. de Barra has been a staunch advocate for gender equality and the important work on eliminating all forms of violence, especially GBV.
"This is an important moment for the Consortium, as we finalise our next Strategic Plan. I am delighted to be taking over the role of Chair during this exciting time. I would like to extend a huge thank you to Siobhán McGee, CEO of ActionAid Ireland, for all the excellent work she did Chairing the ICGBV for the past 2 years," said Caoimhe de Barra.
The Consortium is a unique and impactful organisation, made up of Irish development and humanitarian NGOs, the Department of Foreign Affairs and the Irish Defence Forces. The ICGBV works to achieve an end to GBV through research, sharing learning, policy analysis, and influence and programme work in countries affected by extreme inequality, conflict and poverty.
As an active member of the ICGBV since its foundation, Trócaire prioritises working on human rights, especially the rights of women and girls. In the organisation's new Strategic Plan Trócaire has committed to supporting women and girls' protection, voice and leadership including delivering high quality GBV response and prevention programmes. Last year Trócaire's work on supporting women reached 278,000 people in fourteen countries.
Under the new Chair's leadership, the Consortium hopes to continue the work of advancing learning and best practice programming in relation to GBV for all members going forward.
You can find out more about the work of the Consortium here: www.gbv.ie
-Ends- 
Note to Editors: 
The Irish Consortium on Gender Based Violence is an alliance of Irish human rights, humanitarian and development organisations, Irish Aid and the Irish Defence Forces. The Consortium was formed in 2005 to address the high levels of sexual violence that is perpetrated in international conflict and crisis situations.
Its members are: ActionAid Ireland, Christian Aid Ireland, Concern Worldwide, Irish Defence Forces, GOAL, IFRAH Foundation, Irish Aid, Irish Red Cross, Oxfam Ireland, Plan International Ireland, Self Help Africa, Trócaire and World Vision Ireland.