The Irish Consortium and CBM Ireland hosted a webinar event to mark the launch a new programme learning brief, 'Disability Inclusion in GBV Programming'.
This paper can be viewed and downloaded here, or by clicking on the icon of the paper below. The recording is also available, at the bottom of this webpage.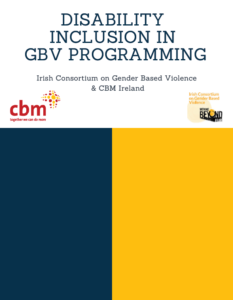 To mark the launch of the paper, the ICGBV & CBM hosted a webinar with experts working to improve the lives of women and girls with disabilities globally. The recording of this event is available below, and the captioning transcript can be viewed here.
*NB: Captions accompanying this webinar will be posted shortly.
Opening Remarks: Vicky Dillon, Policy Lead – Gender Equality, Department of Foreign Affairs
Moderation:  Lou Talbot Beirne, CBM Ireland
Speakers:
Sharon Matingwina, Program Manager, Musasa Project
Mariam Al-Salahat, MHPSS and Protection Coordinator, World Vision Syria Response
Abia Akram, Chair – Asia Pacific Women with Disabilities & CEO – National Forum of Women with Disabilities Pakistan
Emma Pearce, Gender & Inclusion Consultant, Women's Refugee Commission